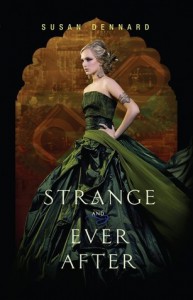 This is it, the final battle, the moment that will decide whether Eleanor manages to win against the evil that took her mother, her brother and now her friend Jie or ultimately lose everyone dear to her. Eleanor travels all over the place in this installment, from Paris to Marseilles and then to Egpyt, if I'm not mistaken, trying to stop Marcus and hoping to save the life of her friend.
The final installment of this series is...I can't. It's killer. As in when I read...THAT PART (no spoilers) I had to do a reread because why why why why why. Cue ugly crying people. Ugh. On to the review.
Eleanor's control of her powers is getting better but her powers and her demon companion still cause strife between her and the Spirit Hunters seeing as how they're totally against her necromancy. I'm glad that Daniel and Eleanor's relationship actually progresses in this installment and Eleanor does grow as a character. I mean sure sometimes her decisions leave me baffled but Eleanor's a smart girl and fearless too and she always manages to push through. Sometimes I wonder why Eleanor's so afraid of her magic but then I realize it's not exactly unicorns and rainbows when it comes to raising the dead. Dead is dead and zombies aren't pretty.
If you've read the second book you'll know that Eleanor and Oliver are not on good terms but I like how their friendship doesn't just disappear and they manage to bridge the gap between them. He's the one who always urges Eleanor to hone her powers and free him from their contract. And despite his anger and hurt he still cares.

Strange and Ever After is hard to put down, Eleanor encounters trouble every which way she turns to the point that it looks like she just can't win. And when all was said and done, the ending was terribly poignant. It's one of the more conclusive endings I've read, with all the loose ends tied up. It was sad but Dennard managed to make it hopeful so while I might have thrown a little tantrum I got over it quickly enough. I'm satisfied and I will definitely read the next book the author releases.

Thank you for this series Susan Dennard, it was wonderful.